If I had to pick the most annoying health affliction, it would be a cough. Since coughs are viral, aside from suppressing them with prescription medications that contain dextromethorphan, there's not much you can do except exercise relief-care. That's where a DIY vapor rub can come in mighty handy, particularly for children.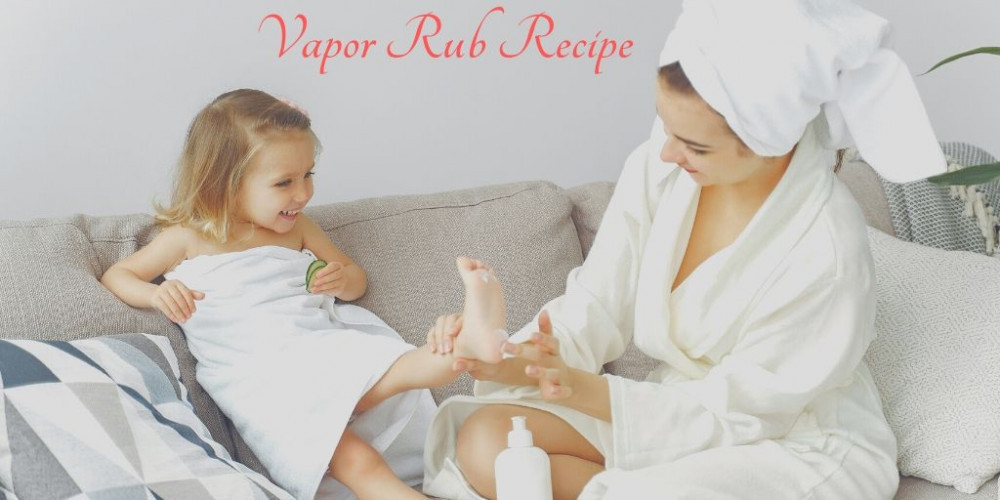 "Disclaimer: this post contains affiliate links which means I make a small commission on qualifying purchases."
Making your own at home is a great way to avoid the toxic chemicals, including petroleum, that are in over-the-counter vapor rubs. Here's an easy recipe you can whip up at home for anyone in your household who has a cough. It's also a good idea to have some on hand for future use.
What Is A Vapor Rub?
---
A vapor rub is a topical ointment or cream that contains therapeutic ingredients, including menthol and camphor. The ointment is formulated with butters and oils that relieve nasal congestion, soothe coughs, decrease inflammation, and break up mucus.
Rubs are applied to joints and muscles to relieve pain, the neck and chest to loosen mucus and soothe sore throats, and on the soles of the feet to suppress coughs by stimulating the spinal cord.
DIY Vapor Rub
---
Ingredients
---
1. 1/2 cup (8 Tablespoons) high-quality coconut oil: Coconut oil is highly moisturizing, antifungal and antibacterial, and contains healthy fats that nourish the skin.
2. 1/2 cup shea butter OR 1/2 cup cocoa butter: Shea butter is a fat that comes from the nuts of the shea trees native to West Africa. Its high-saturated fat content makes it a fantastic emollient and anti-inflammatory that soothes and moisturizes the skin.
Cocoa butter is a vegetable fat derived from the cocoa bean. It has a delicious chocolaty scent, and is rich in vitamins and antioxidants, which make it a superb moisturizer.
The following three ingredients are optional, particularly castor oil and glycerin. You can make the rub using just coconut oil and shea butter OR coconut oil and cocoa butter. If you want to use both shea butter and cocoa butter, use just 1/4 cup of each.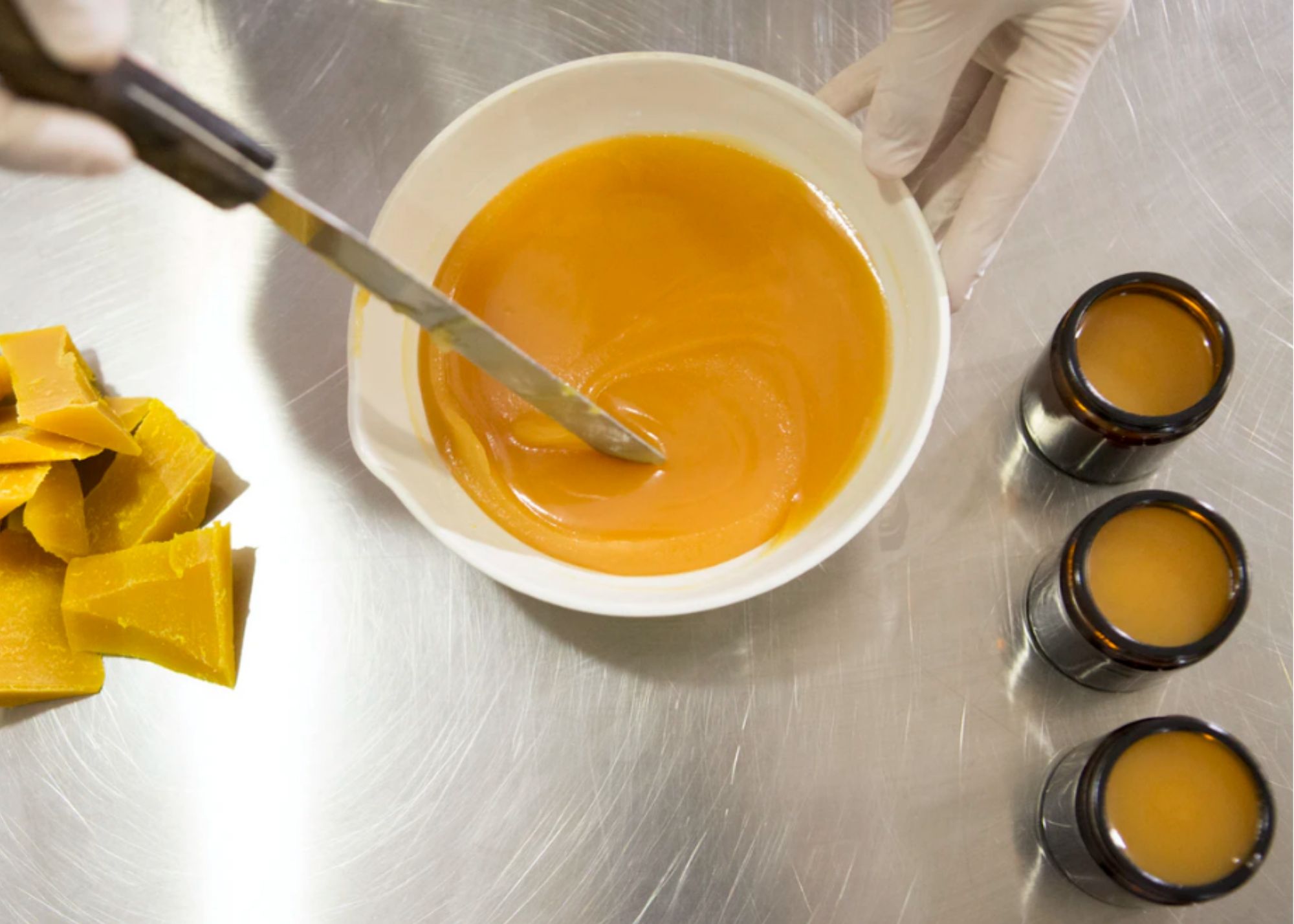 3. 3 tablespoons beeswax: Beeswax is a naturally-derived wax produced by honey bees. It's antibacterial, which makes it a great addition for dry or acne-prone skin, and is beneficial for inflammatory skin conditions, such as psoriasis and eczema. It supports cellular health due to the copious amounts of vitamin A it contains.
4. 1/2 teaspoon castor oil: Castor oil come from the seeds of the castor oil plant. Its antibacterial and antioxidant properties make it a great addition to any DIY skincare product, along with its ability to stimulate detoxification. Be sure and use only a small amount so it doesn't affect the consistency of the mixture.
5. 1/2 teaspoon glycerin: I like using glycerin for its velvety, smooth consistency. I add it to all my DIY skincare because it helps products glide on more smoothly, and won't irritate sensitive skin. Glycerin and castor oil are purely optional so don't use them unless you already have them on hand.
6. Essential oils: Choose three or four of your favorite oils to add to the mix, adding 15-20 drops of each (See below for information on the recommended oils). Due to the potency of essential oils, use only 1/3rd the amount of oil called for when making a rub for children. For instance, don't use more than 5-7 drops of each oil.
*I always use one or two drops of rosemary oil for its preservative properties. Don't add more than that if you'll be using the rub on children.
Fun fact: Equal amounts of peppermint, lavender, and lemon are effective for treating allergies.
Directions
---
Place all ingredients, excluding the essential oils, castor oil, and glycerin in a double boiler set to low heat. Alternatively, you can use a glass bowl in a pan filled with water, which works just as well as a double boiler.
Heat until all ingredients are melted. Remove from heat and let cool for a few minutes before adding the oils, glycerin, and castor oil. Pour into glass jars that are airtight.
**You can double or half the recipe, depending on your needs, and how many people you have in your household. Consider making enough to give one away as a gift. You can put a cute bow and sticker on the jar, which is quite festive, especially during the holidays. The recipe above will make approximately two, six-ounce jars of vapor rub.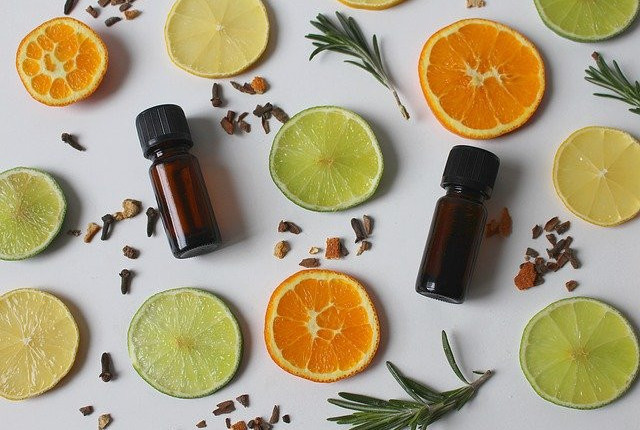 More About Essential Oils
---
Experiment with the oils you add to your rub.
Here are some of my favorites, along with their therapeutic properties:
Clove: This spicy-smelling oil is antimicrobial and analgesic, and is highly effective at soothing coughs and other respiratory conditions, including asthma.
Eucalyptus: Who doesn't love the menthol aroma of eucalyptus, which makes it the perfect addition to a vapor rub. Eucalyptus silences coughs, and alleviates sinus and chest congestion by breaking up mucus.
Peppermint: This distinct smelling oil is beneficial for relieving coughs, boosting circulation, and soothing itchy skin.
Wintergreen: The minty, yet sweet, fragrance of wintergreen is both stimulating and calming, and is a wonderful addition to vapor rubs dues to its ability to reduce respiratory and nasal congestion.
Lavender: This calming oil is antibacterial, reduces inflammation of the respiratory tract, and is even being used in the treatment of COPD.
Pine: Pine is a cooling oil that is useful for reducing fevers, soothing sore throats, and clearing the nasal passages. It is both antiseptic and analgesic. The sharp familiar smell of pine is invigorating and refreshing.
Rosemary: Not only is rosemary a natural preservative, it quells inflammation, and has both analgesic and antioxidant properties.
Lemon: The lovely citrus smell of lemon enhances mood, relieves stress, and promotes relaxation, while stimulating lymph drainage and boosting immunity.
Thyme: Thyme has long been used as a spasmolytic to treat disorders of the respiratory tract, such as colds, coughs, bronchitis, and asthma. It is antifungal, antibacterial, and is bursting with the antioxidant vitamins A and C.
Tea Tree: The antibacterial qualities inherent in melaleuca, also called tea tree oil, inhibits the bacteria implicated in respiratory and sinus infections, and is a popular remedy for treating coughs and colds.
Cypress: Cypress contains camphene, a substance similar to camphor, a terpene used in vapor rubs to alleviate breathing problems, suppress coughs, and reduce pain.
How To Use
---
A vapor rub can be applied to various areas on the body, including the chest, the bottoms of the feet, or on the back. It's also helpful to put a little under the nose to open up the sinuses, and soothe the chapping that comes from blowing your nose a million times a day. However, don't do this with babies or kids under the age of eight.
The safest place to apply the rub on children and infants is on the soles of the feet, which have very large pores, or along the spine where their hands won't come into contact with the rub, potentially getting into their mouth or eyes. Cover with socks when applied to the feet to aid in absorption.
The feet contain a lot of nerve endings, making them an ideal location for applying rubs because it stimulates the spinal cord to suppress coughing. For adults and older children, the rub can be applied to the chest to stimulate deep breathing by breaking up mucus.
The temples and forehead are also good areas for application, and will help to reduce headache pain and congestion. The rub can be applied directly on the neck area to reduce sore throat pain.

Key Points
I love making DIY potions at home because I'm in complete control of the quality of the ingredients I use. Making your own vapor rub is affordable, and will prevent you from coming into contact with toxic ingredients. This is even more imperative with topical applications that go directly into the bloodstream.
Since you never know when a cold or cough is going to hit, it's a good idea to always have some rub on hand. One jar will last an entire cold and flu season. It only takes a few minutes to make and you'll loooove how it smells…
How do you use vapor rubs? Let me know in the comments:)
#mc_embed_signup{background:#fff; clear:left; font:14px Helvetica,Arial,sans-serif; }
/* Add your own Mailchimp form style overrides in your site stylesheet or in this style block.
We recommend moving this block and the preceding CSS link to the HEAD of your HTML file. */
Please sign up for my weekly posts:)
Disclaimer: "I am not a medical doctor, and therefore, cannot diagnose or treat any medical condition, nor do I claim in any way to cure disease. Please be diligent and always do your own research in regard to any material I present on this site. I claim no responsibility for any distress, whether it be physical or emotional, that may occur as a result of the information you obtain from my blog."