Does the thought of having parasites make you cringe? That's the reaction most of us have when presented with this uncomfortable subject. Unfortunately, parasites are more common than you think. In fact, it's estimated that up to 1/3rd of Americans are infected. In this post, you'll learn how to use mimosa pudica for parasites and other infections.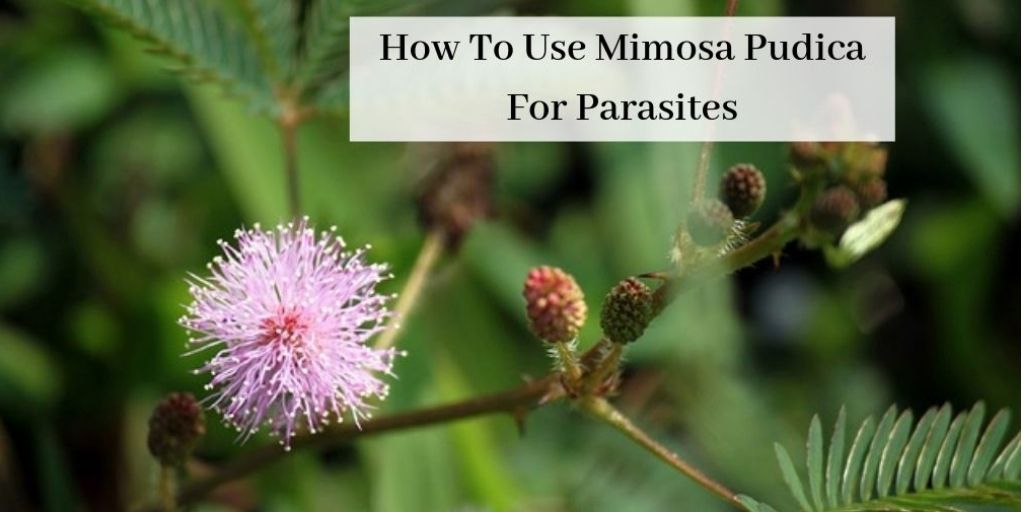 Since parasites are implicated in many chronic illnesses, it's important to be aware of the symptoms they cause, the damage they incur, and beneficial strategies to eliminate them.
What Is Mimosa Pudica?
---
Mimosa pudica (MP), also referred to as "The Sensitive Plant," is a tropical fern whose leaves close when touched. This is most likely a defense mechanism against herbivores. It is also called the "bashful or shrinking" plant due to this characteristic. MP is popular in many areas of the world, but is native to tropical America. It is both an annual and a perennial shrub with uniquely beautiful pink or light purple flowers. It is popularly used as a house plant, and has been used extensively in traditional medicine.
How We Get Parasites
---
Parasites are everywhere. Although, they're often associated with third-world countries, those of living in the United States are not immune. We get them from contaminated food and water, improperly cooked meat, and unclean fruits and vegetables. Restaurant salad bars can be infectious breeding grounds for parasites.
You can even pick up parasites by walking barefoot. They can also be sexually transmitted or contracted through contaminated blood and feces. Tiny parasitic eggs can be transmitted from person-to-person through improper hygiene practices, such as neglecting to wash your hands after using the restroom. These microscopic eggs can be on any surface – door handles, tables, or money – any contaminated surface can be a source of transmission.
Travel to foreign countries is another potential source of parasitic infections. From single-celled protozoa to long tapeworms, there are many types and varieties of tapeworms. This is why the symptoms associated with them can be so varied. People with weakened immune systems are at an increased risk of getting parasites.
Protect yourself by taking measures to ensure that your body is inhospitable by keeping your immune system strong. This way viruses, bacteria, and other pathogens can't take up residence, and wreak havoc on your immune, gastrointestinal, and endocrine systems.
[Read More: 10 Strategies You Can Do TODAY To Prevent Cancer]
How Parasites Wreak Havoc
---
While some people are able to live with parasites with have no observable effects, others become very ill, developing many symptoms, and experience a noticeable decline in health. Parasites are implicated in many chronic and unexplained illnesses due to the effect they have on the immune system.
The waste products parasites produce significantly ramps up body toxicity. This, along with an already weakened immune system, paves the way for many chronic conditions to develop. Autoimmunity, Lyme disease, IBS, arthritis, and virtually any other inflammatory condition, can be associated with parasites.
Parasitic infections lead to nutrient deficiencies because the pathogens consume valuable nutrition to ensure their survival.  This can lead to hunger, cravings, fatigue, and weight-loss. The eggs that parasite lay can cause itching, mood disturbances, and insomnia. They can even cause anemia by feeding off red blood cells.
Symptoms of Parasitic Infections
---
Many people don't suspect parasites as being the root cause of their chronic illnesses, but as you can see below parasites can cause a variety of distressing, unrelenting symptoms:
  Chronic digestive problems
  Exhaustion and chronic fatigue
 Bruxism or teeth grinding at night
 Anemia
 Depression and Anxiety
 Aching joints
 Food sensitivities
Chronic yeast infections
Diarrhea, constipation, and vomiting
Unexplained weight loss
Unstable blood sugar
 Mimosa Pudica For Parasites
---
If you suspect you may have parasites based on the symptoms above, especially if you've recently traveled out of the country or you health has been steadily declining, get a stool test to confirm your suspicions. If an infection is confirmed, a comprehensive parasite protocol should be continued for at least 90 days in order to kill, not only adult parasites, but also their eggs.
Mimosa pudica is an Ayurvedic herb that has been found to be 30 times stronger than many anti-parasitics, and as effective as aspirin for reducing pain. The mechanism through which MP works is by having a paralyzing-effect on the pathogens. It is especially useful for liver flukes, worms, and intestinal nematodes. It also removes mucoid plaque, biofilms, and toxic debris from the intestines due to its stickiness.
MP can be used as a powder, which is the most effective or as capsules in the form of mimosa pudica seed, which acts more like an intestinal scrubber. Two teaspoons of the powder taken daily for six months should be sufficient to eradicate both adult parasites and their eggs. It's imperative to use a binder when using MP, in order to mop up and eliminate parasitic toxic debris.
Herxheimer's Reaction
---
You run the risk of incurring a Herxheimer's reaction if you fail to use a binder when implementing a parasite protocol. A herxheimer's reaction is an acute response to a pathogen or antibiotic protocol. It is cytokine-mediated and can be characterized by symptoms, such as muscle and bone pain, headaches, fatigue, irritability and nervousness, insomnia, skin breakouts, low-blood pressure, flushing,  and fever or chills.
Reactions are the result of the body trying to eliminate the toxins that pathogens release as they are destroyed. Symptoms occur because the body isn't able to do this. Essentially, a reaction occurs when the parasites are killed faster than the body can expel them. This results in a backup of dead debris that gets recirculated if it can't be eliminated, and is the reason why a person undergoing a pathogen protocol can feel much worse before they get better.
Taking a binder and implementing detox strategies are absolutely crucial when undergoing a parasite protocol because they can prevent herxing. Binders bind toxins so they can more easily be expelled through the digestive tract, and detox protocols keep the channels of elimination open to better facilitate this process.
There are a variety of binders that can be used, including algaes, clays, activated charcoal, modified citrus pectin, silica-based gels, along with certain acids and fibers. Always opt for a high-quality binder because many are contaminated. The brand you buy should be from a reputable source. Binders need to be taken away from food as they can bind nutrients.
It's recommended to take your binder of choice at least 30 minutes before a meal or one hour after eating. This holds true for medications and supplements, as well. Binders can slow bowel transit time so always take with plenty of water. Taking a magnesium supplement is also a good idea to prevent constipation.
Key Points
---
If you consistently attend to your health, eat a nourishing diet, exercise, get enough sleep, and practice self-care, yet still have unresolved and unrelenting symptoms, it's possible you may have parasites.
A good rule of thumb is to do a parasite cleanse every year just to cover your bases. Unhealthy diets, toxic exposures, and imbalances in the microbiome all create the perfect environment for parasites to thrive.
Practice good hygiene, stay away from improperly cooked foods, unfiltered water, toxic chemicals and environments to make your body an inhospitable place for parasites to inhabit. Managing your stress is also vital for a robust immune system. Processed foods, that are deplete in nutrients and high in sugar, depress immune function and feed both parasites and yeast. There's a lot you can do on a daily basis to protect yourself against pathogenic invaders.
What has been you experience with parasites? Let me know in the comments:)
References:
(1) Research Gate: In vivo pharmacological investigation of Mimosa pudica L
(2) Research Gate: Antinociceptive Activity of. Mimosa pudica Linn
(3) PubMed: Mimosa pudica L. (Laajvanti): An overview
(4) NCBI: Change in the actin cytoskeleton during seismonastic movement of Mimosa pudica
(5) NCBI: Plant Signaling & Behavior
(6) Mdheal.org: Intestinal Parasites, Bacterial Dysbiosis And Leaky Gut 
(7) Klinghardt Academy Event: A Deep Look Beyond Lyme
(8) Madison Area Lyme Support Group: Removing Parasites to Fix Lyme & Chronic Illness – Dr. Jay Davidson
(9) Lymebook.com: Lyme Disease Insights Blog 
(10) Sophia Nutrition: Are You Detoxing with the Correct Binders?
Disclaimer: This article is strictly for informational purposes only and is not intended to be medical advice.